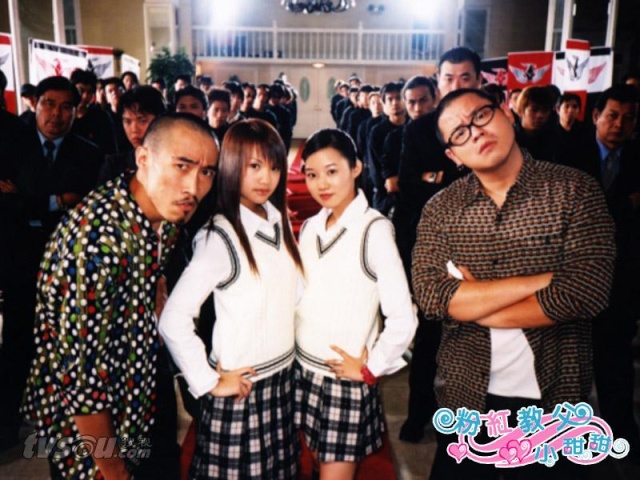 Titre :
Godfather in Pink
Autre Titre :
粉紅教父小甜甜 / Fen Hong Jiao Fu Xiao Tian Tian
Genre :
Comédie - Romance - Ecolier
Episodes :
13
Année :
2003
Résumé :
Sheng Yin Enterprise's CEO, Chen Ao Fu (a mafia company's CEO who ardently loves to eat cake) died of an illness, leaving one will behind for his missing granddaughter to inherit the inheritance and the power. A beautiful girl who loves to play billiards, Xiao Ting, who grew up together in an orphanage with Xiao Man, therefore, unexpectedly, took charge of a mafia gang company. Originally, thinking that she will inherit the inheritance, Zhu Mei Dai, the widow, and also the gang leader's most competent helper, his adopted son, Xiong Tian - the only thing that they can do now is to follow the will and assist the beautiful girl in becoming the mafia's leader. After the death of Chen Ao Fu, Jiang Long, who gained the support of his superiors, took this opportunity to penetrate deeply into the core of the mafia's operations to find evidence to bring down the mafia gang's empire.
Casting :
* Rainie Yang : Bao Xiao Ting/Chen Tian Shi
* Zhang Fu Jian : Chen Ao Fu
* Zhu You Ting : Bao Xiao Man
* An Ya : Zhu Mei Dai
* Gao Ying Xuan : Xiong Tian
▂▂▂▂▂▂▂▂▂▂▂▂▂▂▂▂▂▂▂▂▂▂▂
* Femme Officielle de Song Joong Ki. <3
Je garde dans mon coeur Wu Chun <33
Facebook de Kehai-Fansub
Facebook Ming-Liu
Drama
The Queen of SOP
Merci Moz'art ^^